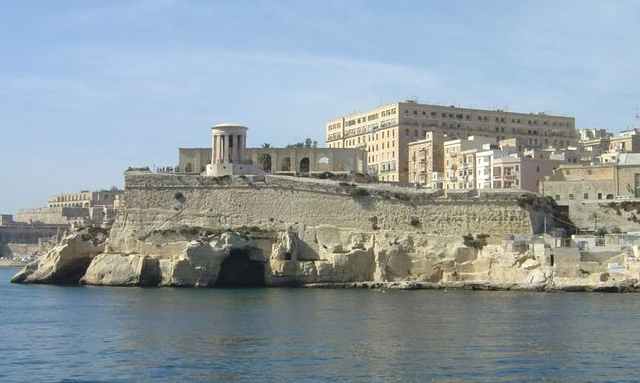 For anybody who doesn't know, Malta is an island nation of the Mediterranean located between Sicily and North Africa. Historically speaking, this location has made Malta an island of strategic importance throughout history. And like most islands of strategic importance, a lot of people have fought over it. In the past several thousand years Malta has been claimed by just about every Mediterranean power including the Greeks, Romans, Muslims, Crusaders, French, and lastly the British. It wasn't until 1964 that Malta became independent of the British Empire. But enough about the history! Like most contested island nations, Malta's food is a great mix of cooking styles that contains elements of all the cultures it has hosted throughout the years.
We did not pull Malta from our pig. Instead my good friend Paul and his lovely girlfriend Kristen were in town from D.C. Kristen happens to be the only person I know with a bunch of Maltese people in her family tree. She also happens to be quite proud of this fact. So naturally we had to cook a large Maltese feast in honor of her visit to Chicago. While I knew absolutely nothing about Maltese food or culture going into this meal, I was lucky to have a lot of help from Kristen with menu planning and recipes that had been handed down through the generations of her family. The result of all these efforts was our most attended meal. But more on that after the recipes.
Pastizzi Stuffed With Cheese and Greens
These stuffed pastries were a big hit at the dinner and are truly delicious. And I think it's safe to say I will never make them again, at least not from scratch. The process of making pastizzi dough is one of the more labor intensive activities I've performed in my kitchen, and I'm too lazy to clean up that much shortening ever again. We were fortunate enough to have the Mizzi family recipe as a guide to help us through this strange process. We also managed to find a visual aid of somebody's youtube clip of their family's old Maltese grandmother making this stuff on a dining room table. The looks of joy on everyone's faces made these little pockets of fat worth all the effort.
Dough
5 cups flour
2 cups iced cold water
salt (about 1/2 teaspoon)
1 tub of crisco (Personally, I'm more of a lard man.)
Filling
3 lbs. ricotta cheese
1 lb mustard greens blanched, drained, and chopped
2 eggs
salt and pepper to taste
grated cheese to taste (I use approx. 3/4 cup) **Use whatever cheese you prefer~I use romano cheese
1. Mix together the dough ingredients either by hand or by mixer fitted with dough hook for about 15 minutes or until the dough forms a smooth ball..
2. Cut dough into thirds and pull/stretch/roll out as thin as possible. Lay on a table and continue pulling until paper thin. Spread Crisco all over dough. Be very liberal with the Crisco. Start rolling from one end. Pulling and stretching the entire time. When that piece is done, (it should look like a long, layered sausage), pull the next piece, repeat the process, pulling thin and crisco. Before you start rolling, lay the rolled piece on one end, and roll onto it. Continue again with the third piece. When the dough has been rolled, it should be one, thick, layered piece. Place in fridge overnight to sit.
3. Next day, let sit on counter to get to room temperature. When filling is ready, start cutting very small slices and stretch out in the palm of your hand. Fold around filling, and place on cookie sheet to flash freeze. When ready to bake. No need to thaw, just place on a baking pan with sides. Bake at 375* for 25-30 minutes until golden brown.
Kapunata
It was an extremely hot day when we prepped this meal. So it was great to take a break from the kitchen after beating piles of dough into submission and stand next to a grill on full blast. Despite the heat of the grill, the final product is a cool and refreshing salad that goes perfectly with a hot day (which I assume they have many of in Malta.)
3 medium size zucchini cut into thirds lengthwise
1 lb carrots peeled
3 red peppers cut in half and seeded
2 red onions peeled and cut in half
3 roma tomatoes left whole
1 bunch cilantro
1/2 tsp cayenne or to taste
2 tbsp capers
1 cup chopped almonds
1 cup raisins
1/2 lb feta
1 tsp sugar
2/3 cup olive oil
1/4 lemon juice
Salt to taste
1. Grill the zucchini, carrots, onions, peppers, and tomatoes until they are soft and nicely browned on the outsides. Set them aside to cool.
2. When the vegetables are cool chop the zucchini, carrots, and tomatoes into bite sized pieces. Cut the onions and peppers into thin strips.
3. In a very large bowl combine the vegetables with the remaining ingredients and serve garnished with extra cilantro and feta.
Pasta Salad
Ok, we were cheating a bit here. We've made plenty of pasta salads in our day, and this isn't all that different from the standard concoction. But we were feeding an absurd amount of people and needed something else cheap to fill people up that required minimal effort...which I'm pretty sure is how pasta salad came about in the first place. Also we have it on good authority that this stuff gets eaten in Malta.


1 lb dried farfalle pasta cooked in salted water
2 grilled red peppers
1 cup olive oil
1/3 cup vinegar
2 tbsp capers
1/2 cup sliced olives
1 bunch of parsley
1 tsp ground pepper
Combine everything in a large bowl, mix well, and serve!
Mashed Fava Salad
Funny thing about fava beans is everybody thinks you're serving them fancy food when you feed them favas. While it is true that fresh favas are kinda pricey and can be super tedious to prepare, dried skinned favas are quite cheap and readily available at most Mexican grocery stores. Also, they go quite nicely with the classic Mediterranean dressing of olive oil, lemon juice, and herbs.
1 tsp ground pepper
1/2 cup olive oil
1/2 cup lemon juice
1/3 cup chopped parsley
2 tbsp chopped mint
1 clove chopped garlic
1/2 tsp hot paprika or cayenne
Salt to taste
1. Drain the favas and then cook them in a large saucepan with enough water to cover them over medium heat for 45 minutes or until tender.
2. Drain the cooked favas and run them under cold water in the sink until they are cool enough to handle.
3. In a large bowl combine the favas with the garlic, pepper, oil, lemon juice, and parsley and mash them with a potato masher (I used a wine bottle.) At this time salt it to your taste.
4. Garnish the dish with extra olive oil, mint, and paprika. Serve chilled or at room temperature.
Octopus Stew
Buying a whole octopus is not something I often do, although now I wonder why I don't make it more of a routine. You might think that being a Chicago resident impairs my ability to buy a decent octopus. Fortunately, we have a wholesale seafood market located in the west loop about two miles from my home. Here, I experienced the joy of digging through piles of octopus to find just the right one. When selecting an octopus make sure there's enough of it to feed your guests and also make sure it doesn't smell like it's rotting. And be prepared to either serve it 24 hours or immediately store it in the freezer. I'm sure the Maltese have a much easier time finding decent octopus, and if you live near a seafood market it's definitely worth considering as a good crowd food.
5lb whole octopus cut into 1 inch chunks
1/2 cup olive oil
1/2 lb peas
2 carrots finely chopped
2 large red onions finely chopped
4 cloves garlic finely chopped
1 tsp dried thyme
5 tomatoes coarsely chopped
2 potatoes cut into 1 inch cubes
1 bottle of red wine
2 tbsp capers
1/2 cup chopped olives
3 tbsp flour mixed with an equal amount of water
Salt and pepper taste
Chopped parsley for garnish
1. Simmer the cut pieces of octopus in a large sauce pan for 1 hour to 1.5 hours or until the pieces are tender.
2. In a large sauce pan heat the olive oil over medium heat and add the onions, garlic, and carrots. Cook these over medium low for 5-8 minutes or until they are tender.
3. Add the tomatoes, potatoes, octopus, and thyme to the pot and stir together for another two minutes.
4. Pour on the bottle of wine and raise to a simmer. Cook covered for 45 minutes.
5. Add the capers, olives, peas, and flour paste to the pot, stir well, and cook on high heat for ten minutes or until the stew has thickened. Garnish the pot with parsley and serve.
Baked Pasta
I went to a lot of weddings last year. A good number of these weddings were in Northwest Indiana (The Region). At each of these weddings I was served some sort of a rendition of this dish. At first I was surprised when Kristen sent me her family recipe, but I probably shouldn't have been. Baked pastas dishes are delicious and popular all around the Mediterranean. It should come as no surprise to anybody that they remain popular with the descendants of immigrants in the Midwest. And they go great with weddings because they make great crowd food. We ended up tripling this recipe and made way too much. Kristen's brother Mike left with a giant sack of leftovers and a big smile on his face.
2 lbs ground beef
1 lb ground pork
2 cloves of garlic, minced and sauteed in a couple tablespoons of olive
oil.
1 16 oz can of tomato paste
2 lbs mostacciolli noodles, boiled
6 lg. eggs, lightly beaten together
2.5 cups grated Romano cheese
Salt and pepper, to taste
1 lb fresh mozzarella cut into 1 cm thick slices.

1. Add the meat to the sauteed garlic/olive oil mixture and brown it over
medium heat. Drain the fat. Add the tomato paste, plus one can of water.
Salt and pepper to taste and stir and simmer for 30 minutes or so.
2. Mix cooked noodles with the sauce, add the beaten eggs and stir the whole
mess up.
3. Stir the cheese (saving some for the top) into the mixture. Dump into
greased baking pan and sprinkle with more grated cheese and
maybe a little more salt and pepper. Top with mozzarella.
4. Bake for one hour at 400 degrees until the top is nicely browned and crispy.
Conclusion
Many pots, pans, bowls, plates etc. later, we discovered that we had 27 people in attendance at this meal. For space concerns, the meal was relocated to my former apartment (now Carl's), which seemed proper in many ways because Paul also used to reside there. Cooking for 27 involved a lot of logistical challenges in terms of portioning recipes and ensuring enough seats were available. I'm proud to say with a lot of help we pulled it off and more than enough food was present to gluttonously feed everyone in attendance. The intense heat and lack of A/C forced the meal to the back patio where we set up three folding tables in a row, giving the meal a truly feast like setting. While I have no desire to cook for such a large crowd again for a good while, I really enjoyed myself and feel a great sense of accomplishment when looking at all these photos.
Now I should apologize for the extreme delay this post has had. We moved a block away about a month ago and were too lazy to write the post as we were packing and moving shipments of things between apartments. Unfortunately, once we moved into our place a month long struggle to get AT&T to connect our internet ensued. I'm pretty sure I logged 8 hours on the phone trying to schedule and reschedule a service rep to come over. Anyways, we finally have internet again and sincerely apologize for the wait. St. Vincent and the Grenadines is next!