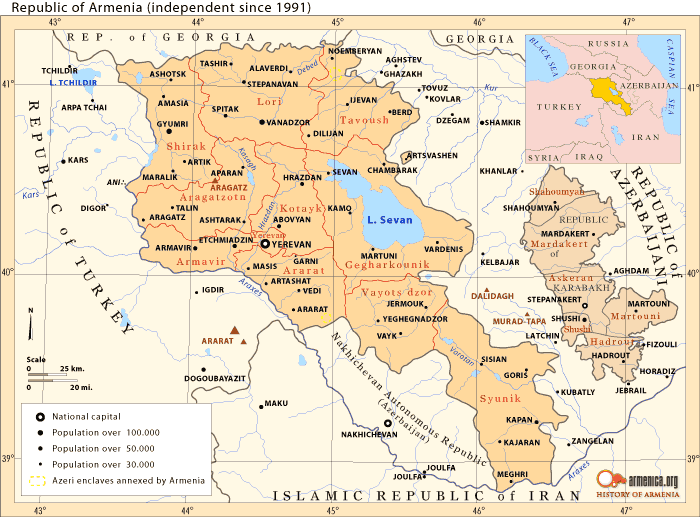 Historical foe of Persia, Rome, the Byzantines, and the Turks; Armenia is not just another former Soviet Republic.
It is also the ancestral homeland of singer/songwriter Raffi, as well as the legendary docking spot of Noah's Ark! Not surprisingly, Armenian food is as rich as its history. The best way we can think of summing it up is to describe it as a cross between Turkish and Russian, but this explanation really doesn't do it justice. However, if you would like a taste of Armenia without spending a full night in the kitchen, we do know of at least one Armenian restaurant,
Sayat Nova
, in Chicago conveniently located on Ohio Street just east of Michigan Avenue.
However, if you don't live near an Armenian restaurant and you do enjoy making a meal for yourself and would like to explore other Armenian dishes, we recommend Sonia Uvezian's
The Cuisine Of Armenia
. We used this as our main inspiration for many of the recipes in this dinner.
Tomato, Bulghur, and Mint Soup


1 32 oz. can of whole stewed tomatoes
1 stick butter
1 cup bulghur
8 cups water
10 oz. spinach, cleaned and chopped
3 garlic cloves crushed
Juice of 1 lemon
A handful of freshly chopped mint
Salt and pepper to taste
1. Melt the butter in a large pot, add tomatoes and cook for five minutes over medium heat.
2. With a masher crush the tomatoes, add the bulghur, and cook for another five minutes stirring frequently to avoid burning the grains.
3. Add the water, spinach, and garlic. Bring the soup to a boil and reduce to a simmer.
4. Cover and cook for 40 minutes over low heat.
5. When ready to serve thin the soup with water to desired consistency. Garnish with mint and lemon. Check for seasoning and serve!
Chilled Green Beans with a Walnut Sauce


2 lbs green beans trimmed and washed
2 cups walnut
1 large yellow onion finely chopped
3 tsp paprika (good stuff not the cheap crap)
1/2 cup red wine vinegar
Broth for thinning the sauce
Chopped parsley for garnish
Salt to taste
1. Boil the beans for ten minutes, drain, and immediately rinse in cold water.
2. Combine the remaining ingredients, except the parsley, in a food processor and blend to a paste. Add enough broth to form a paste like sauce.
3. Toss the beans with the sauce and chill before serving.
Rice Pilaf with Toasted Sesame Seeds and Almonds


1/2 cup sesame seeds
1/2 cup almonds
2 cups long grain rice (we used Jasmine)
4 cups chicken stock
1/2 cup butter
Salt to taste
1. Melt the butter in a large pot, add the rice, and cook over medium heat for five minutes stirring often.
2. Add the stock, raise to a boil, and reduce to a simmer. Cover the pot and cook over low heat for 20 minutes.
3. While this is cooking bake the sesame and almond in the oven at 350 for 10 minutes.
4. Fluff the pilaf before serving and add the almonds and sesame.
5. Taste for salt and serve.
Eggplants Stuffed with Beef


1.5 lbs. ground beef chuck
2 roma tomatoes
2 large yellow onions diced
2 cloves garlic chopped
A handful of parsley
4 tbsp butter
Salt and Pepper
3 large eggplants
1. Cut the eggplants in half lengthwise and scoop out the flesh with a spoon carefully being sure to leave enough flesh for the eggplant to keep its shape. Salt the shells and set aside.
2. Melt the butter in a large pan over medium heat, add the chopped onion and cook until translucent (not brown).
3. Add the beef and cook until browned.
4. Add the tomatoes, garlic, parsley, salt and pepper. Cook for another five minutes and remove from heat.
5. Stuff the hollowed eggplants with the beef mixture. Arrange them in casserole dishes with a small layer of water to prevent the eggplants from burning.
6. Cook in a 400 f oven for 1 hour or until the eggplant is completely cooked. Serve!
Butternut Squash Dessert


2 lbs. butternut squash cubed
2 cups sugar
1 cup water
cinnamon
2/3 cup heavy cream
1. Combine squash with sugar and water and cook over low heat covered until the water is evaporated and the squash is tender.
2. Mash it!
3. Chill it!
4. Mix cream with some sugar and whip until it reaches your desired thickness.
5. Top chilled squash with cream and cinnamon. Enjoy! There's a lot of it!
The Result


The soup was unbelievably simple in execution and very pleasing to the palate. We plan on making this soup over and over again, as it is filling, delicious and tastes possibly even better as leftovers.
The pilaf was a hit in my book as well as with some of Tom's coworkers. The toasted seeds and almonds gave the rice a kind of crisp, bitter quality, much like baked pumpkin seeds.
At first, we were going to serve the beans as an appetizer while we were waiting for the eggplant to finish baking, but as it turns out they were much too strong of a flavor on their own. Once we plated them with the rest of the meal, we found that the beans complimented the other flavors from the pilaf and eggplant rather than dominating them.
When you first look at the size of the eggplant, it looks completely overwhelming in quantity. Once we started digging into it though, it was more like eating a stuffed cabbage or pepper. Tom likes to think of it as a meat pie inside of an eggplant, which just really means he's happy not to have to roll out dough.
The dessert of squash mash is something that is meant for a large group of people or several champion squash eaters. After all of the other courses, it was hard to eat, as it is also very filling. It seems as though it was not for everyone at our table, but it's hard to say if it was the full tummies or the tastes of the crowd. However, Susie, the dachshund could not get enough of it.
Australia will be later this week and then only 2 more "A" countries (whew!). Until then,
kenats't!