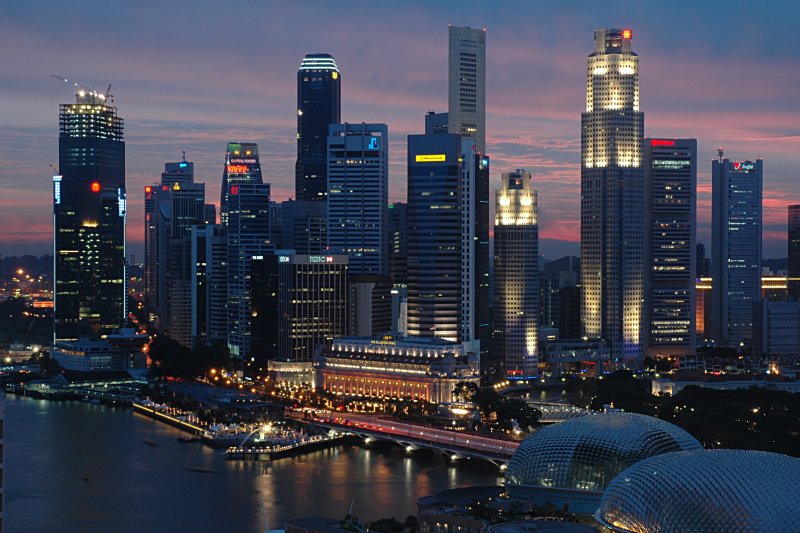 I once spent a night walking across Singapore to catch a bus to Malaysia. The five or so hours I spent taking a bus from the airport into the city's downtown area and walking toward the bridge to Malaysia were the only moments I spent there. I did manage to sneak one meal into my quick journey across the tiny country, and it was a delicious meal of fried noodles with just about everything thrown into it. The sauce tasted like a delicious curry and I counted at least five different meats and twice as many vegetables present along with the thick starchy noodles. It was a tasty mix of different cooking styles, and that pretty much sums up of what should be expected of food in Singapore.
Oddly enough our good friend Hudson left for Singapore the week we picked it as our next country. He's over there doing law things and living like a hermit now in a tiny room with his few possessions. But he was kind enough to act as our food correspondent while we planned out this meal. Our first thought was to make the national dish of chicken rice, but Hudson had some and decided it tasted just like the name implied and was quite boring. Then we thought fried noodles would be great, but quickly realized it's a meal unto itself and doesn't really pair with a spread of various dishes. In the end we decided that whatever we made would have to reflect the cultural mess that makes Singaporean food so exciting. With each dish we tried to include as many international influences as we could. The resulting meal has some strange combinations of flavors that work together perfectly.
Jicama, Peanut, and Pomelo Salad: Rojak


This type of salad can be made with many different combinations of vegetables. I happen to have loved jicama since I first had it in Vietnam. The important element to this dish is the combination of peanut, citrus, and fresh herbs. Supposedly the dish originated in Indonesia, but variations on this theme can be found all over Southeast Asia. It's perfect for eating on a hot day.
1 jicama peeled and thinly sliced into bite sized portions
1 cucumber finely sliced
1 bunch of scallions chopped
1 pomelo or grapefruit peeled and separated into serving portions
1/2 cup chopped mint leaves
1.5 cups fresh beansprouts
2 cups roasted peanuts
4 garlic cloves
2 chillies
1 tsp shrimp paste
1 tbsp tamarind paste
2 tbsp sugar
Salt to taste
1. In a food processor grind the peanuts, garlic, chillies, shrimp paste, tamarind paste, sugar, and enough water to form a thick sauce. Salt the sauce to your taste.
2. Next arrange all the chopped fruits and vegetables into a large bowl. Pour half the sauce in and mix everything well with your hands. Then pour the rest of the sauce over the salad and serve.
Napa Cabbage and Tofu in a Thick Coconut Sauce
This dish is a great mix of Chinese and Malay ingredients. The sauce can be made days ahead of cooking and the cabbage and tofu cook within minutes. Basically, it's great crowd food.
1lb napa cabbage chopped into thick strips
1 lb firm tofu cut into 1 inch cubes
4 shallots
2 garlic cloves
1 inch piece of ginger peeled and roughly chopped
1 stalk of lemon grass trimmed and roughly chopped
2 serrano or other hot chillies seeded
1 tsp shrimp paste
1 tsp turmeric
1 tsp sugar
1 tsp sesame oil
1 can coconut milk
Salt and pepper to taste
1. In a blender grind the shallots, garlic, ginger, lemon grass, serranos, shrimp paste, turmeric, sugar, and a bit of coconut milk into a very smooth paste.
2. Heat the oil in a wok or heavy saucepan over medium heat and pour in the blended paste.
3. Cook the paste for 2-3 minutes stirring frequently until it smells pungent and begins to change color.
4. Pour in the rest of the coconut milk and reduce the mixture into a thick sauce. Add salt and pepper to taste.
5. Add the cabbage and tofu and cook gently for several minutes until the cabbage has wilted and becomes soft enough to eat. Take care not to break up the tofu too much as you cook this. This can be served immediately or gently reheated before serving. This of course goes well with rice.
Cuttlefish in a Dark Sauce
I wouldn't have felt right if I didn't include any seafood in this meal. Ideally, I would have loved to make chili crab, but there's no way I can afford to feed a lot of guests that much crab. Cuttlefish on the other hand can be found frozen for less than the price of chicken at the Vietnamese and Chinese markets in Chicago. It's quite a bit larger than squid and tastes great after being boiled for a about 40 minutes to an hour. The Vietnamese markets also sell the kecap manis which is a very thick and sweet soy sauce that makes a great base to many of the sauces in Malay and Indonesian cooking. It's also very cheap and worth having around.
1 tbsp vegetable oil
3 chopped shallots
1 cup bean sprouts
1 scallion
1 inch piece of ginger peeled and finely chopped
2 dried red chillies
1 stalk of lemongrass peeled and cut into two large pieces
1 lb cuttlefish meat cleaned, chopped into bite sized pieces, and simmered in boiling water for 30-40 minutes or until tender.
2 tbsp kecap manis or 1.5 tbsp soy sauce with 2 tsp sugar
1 tsp vinegar
1 tsp lemon juice
2 tbsp chopped mint
1. Heat the oil in a wok or heavy pan over medium and add the shallots, scallion, ginger, chillies, and lemongrass. Cook for two minutes or until the shallots are soft and fragrant.
2. Add the prepared cuttlefish meat with the bean sprouts, salt, vinegar, and lemon juice and cook over high heat for several minutes until the sauce thickens. Garnish with mint and serve with rice.
Our friend Adam was angered by the lack of beef on the original menu we planned, so we attempted to appease him with this dish that originates in the neighboring Indonesian island of Sumatra. The Sumatran version is a bit simpler than this one and omits most of the dry spices. This version shows a good deal of Indian influence with the addition of a simple masala of cumin, turmeric, coriander, and pepper. Adam seemed pleased with the dish and we are still good friends.
8 shallots pealed and thinly sliced
3 garlic cloves
1 inch piece of ginger
1/4 cup chopped hot chillies (or to taste)
6 cups coconut milk
2 lbs boneless beef chuck cut into 1 inch cubes
zest of 2 limes
4 stalks of lemongrass
2 tsp cumin ground
1 tsp black pepper ground
1 tsp coriander ground
1/2 tsp turmeric ground
1. In a blender combine the shallots, garlic, chillies, ginger, and a 1/2 cup of the coconut milk. Blend them into a smooth paste and pour this over the beef.
2. In a heavy pot bring the remaining coconut milk to a boil with the lemongrass and lime zest. Simmer this for about 15 minutes.
3. Add the beef and ground spices to the pot and bring to a simmer. Cook the pot over low heat uncovered for 2-3 hours or until the beef is tender and nearly all the liquid has evaporated. Add water if the it becomes too thick to avoid burning stew. This can be made up to 3 days ahead of time and should be reheated before serving (although many seem to have no problem eating this at room temperature.)

Singapore Sling

I was pleased to find that this popular old-timey cocktail is actually Singaporean in origin. Apparently it was developed in the Raffles Hotel around 1915 and has since gone on to be a favorite amongst grandmothers everywhere. In Chicago, it has become a popular cocktail at the California Clipper (a great bar everybody should check out)


2 parts gin
1 part brandy
Club soda
Pineapple Juice
Splash of Grenadine
Ice
This one is all about ratio and taste. Simply combine the proper ratios of gin and brandy and dilute with club soda and pineapple juice to taste. Splash with grenadine and shake with ice. Strain into serving glasses and celebrate! If you have cherry brandy, omit the grenadine. Feel free to garnish with cherries and pineapple chunks.
In Conclusion
Singapore is an amazing culinary destination that draws its influences from every corner of Asia. I am eternally jealous of my good friend Hudson getting to spend the next year out there, because I'm sure that every day he is eating something much better than whatever I am having. The dinner itself turned out great and everybody ate their fill and drank way too much as usual. We would like to apologize for the delay we've had in posting this one. Our internet was out all of last week and I wasn't able to post any photos. Egypt and Malta should be up shortly. Cheers!